I love the beach! It is one of my favorite places to be. I love the cool ocean breeze, the sound of the waves crashing, the feeling of warm sand on my feet, and watching the birds dive into the water.
While Matt was at his conference all day I hung out at the beach. I decided to walk since parking your car at the beach costs money, and the beach was only about half a mile a way. I went this morning even though it was kind of gloomy out and back again after lunch when the sun came out. Believe it or not it was warmer this morning. I pretty much had the beach to myself, I guess November isn't beach season.
There were a lot of sand dollars this morning.


Me enjoying the beach.


I just had to give the water a try, it was a little cold.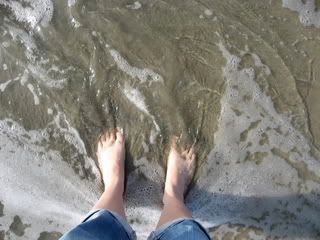 A video of the waves crashing for all the people who are like me and just love to hear it.
Matt hopefully will get to go down to the beach with me this evening for a sunset walk. Don't worry he is enjoying his conference and learning a ton.