My dad made the local newspaper and it wasn't for anything bad!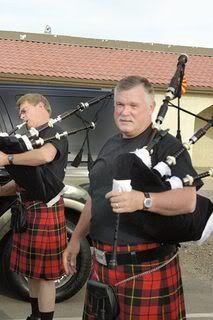 What they couldn't get you both to look at the camera?
It has been less than a year since Chief Dewey Ray of Gila River Fire Department began forming and instructing the Fire Department Maricopa Pipe and Drum Brigade. Since that time under the watchful eye of Maricopa Fire Chief William Kelleher, who himself was a drummer for the FDNY Pipe and Drum Corps a few years back, the "Band" has made great strides due to the dedication and piping knowledge of Chief Ray.
Firefighter Lonnie Inskeep and Captain Mark Boys, both members of the Fire Department Maricopa Pipe & Drum Brigade, recently attended the prestigious United States School of Piping at Northern Arizona University in an effort to enhance their piping skills.
During the weeklong class in Flagstaff, the two pipers underwent rigorous training by literally the best bagpipers in the world. Instructors were flown in from the Highlands of Scotland to teach the students not only how to better master the art of bagpiping, but the culture and history of the instrument itself.
Inskeep and Boys were personally taught by Senior Pipe Major Bruce Hitchings of the Queens Own Highlanders, a highly decorated individual still serving in the British Army with more than 40 years of piping experience. Her Majesty the Queen has awarded Pipe Major Hitchings numerous citations and honors.
The week began with an audition before six of the world's greatest pipers – no pressure there – and ended in a graduation in the NAU music department auditorium. Both Inskeep and Boys returned with a tremendous amount of knowledge that they both plan on sharing with their fellow pipers.
"This was an opportunity of a lifetime for me," said Boys. "I can actually say I was taught by the best pipers in the world. I
nskeep and Boys both plan on attending next year for further instruction.
"We hope we can get a few more of our pipers to attend next year if at all possible," Inskeep remarked.
The cost of the tuition was $750 for the week for each, but "was worth every penny" according to Boys.
Jim Thompson of Thompson and Sons Bagpipes in Flagstaff has been the driving force for this school for more than six years now with the support of the Northern Arizona Celtic Society. Boys and Inskeep hope to put their new skills to use by performing for the citizens of Maricopa with their fellow FD Maricopa Pipe and Drum Brigade members.
©Casa Grande Valley Newspapers Inc. 2007