Our dossier is officially in the hands of Fedex now and on its way to St. Louis, Missouri. I went by the Secretary of State today to get everything authenticated and they attached a sheet of paper and seal to each one.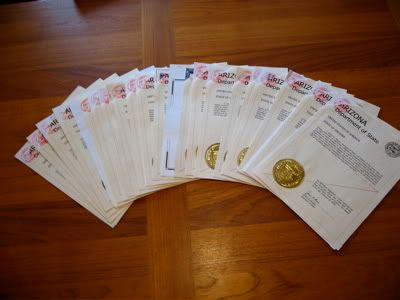 Isn't it pretty?
Today I also have to give thanks for woman's intuition. As I drove away from the SOS I had a voice in my head that said to pull over and check the documents. Of course, I didn't want to pull over, but I did give a quick look while sitting at a red light and the first sheet I looked at was missing the gold seal. I turned around, parked, re-checked absolutely everything, and went in and got the one gold seal I was missing.

I am so happy that our dossier is in the mail and out of our hands. It was a lot of work, but so worth it!